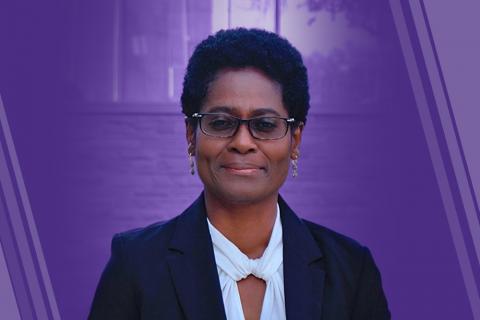 Bayo Adetunji is the new continuing education coordinator for the Northwest Center for Public Health Practice. She will manage the Public Health Management Certificate Program and support the center's funding for student projects.
Bayo has 18 years of experience in higher education and state government, including her most recent work as an education program specialist with the Maryland Department of Labor. She also has experience providing technical assistance to adult education providers, including adult basic education and English language instruction.
Bayo earned her master's degree in career and technology education at Bowling Green State University after earning her undergraduate degree in political science at University of Ibadan in Nigeria. She came to the United States in the fall of 1993 with her spouse who was completing post-doctoral work in Boston, Massachusetts. She has been a member of the Teaching English to Speakers of other Languages (TESOL) nonprofit, as well as the Maryland TESOL organization, and the Coalition on Adult Basic Education (COABE).
During her career in higher education, she managed training implementation and professional development activities provided by colleges in partnership with businesses and government agencies.
Bayo talks more with us about herself and her new role at NWCPHP.
What brought you to UW and NWCPHP?
I was excited about and interested in working with NWCPHP for a couple of reasons. First, my experience, skills, and interests perfectly align with the continuing education coordinator position. I enjoy working with adult learners in higher education and supporting targeted training solutions designed to meet their needs where they are. As a national training center that connects academics and professionals, I knew my skills would be a great asset in the collaborative efforts to achieve a competent, skilled workforce.
Secondly, my family is in the process of relocating to the Seattle area. I was excited to find such a perfect match for my skills and experience in the new place I will be calling home.
What are you most looking forward to in your new role?
I'm excited to bring my skills to such a talented team. I look forward to leveraging my program management skills to improve program and learner outcomes that will ultimately better support the health and well-being of so many communities.
What are some of your interests and hobbies outside of the office?
I enjoy taking long walks. The moments that I enjoy the most include when I'm able to stop and be in the moment and reflect! In ideal situations, I would work on simple sewing projects and crochet. Ironically, I don't seem to have enough time to devote to these activities even though I work remotely. I'm working on finding the time to do what I really enjoy doing outside of work. I really look forward to moving to the Seattle area, perhaps picking up a few more interests and hobbies.