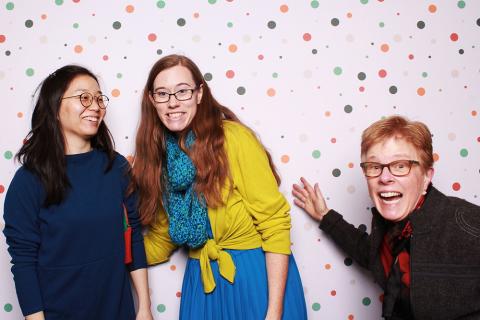 Data analyst Melinda Schultz connects her passions for sociology, statistics, and creativity to help develop data tools health departments can use.
As a data analyst, Melinda Schultz helps find and transform data into visual tools people can use easily. This includes gathering and combining data sources, cleaning data, and creating data visualizations. It's a natural way to apply her training in statistics and sociology, as well as her passion for social equity. But her artistic streak helped her see how data visualization is as much about creativity as about science.
"I started to learn about data visualization when I came here, and realized it was the perfect balance of data and creativity," Melinda said. "Data visualization is the work equivalent of my creative hobbies. I see a lot of parallels between that and scrapbooking, for example, like figuring out what's visually pleasing and combining images with narrative. There are many ways to visualize data, so you have to pick what looks good and is going to be most understandable."
Her team's collegial and collaborative approach also appeals to her. "It's been a great experience," she said. "Everybody's so friendly, cooperative, supportive, and open to hearing ideas. This is my first job in the real world after college, and I don't think I could have asked for better colleagues and bosses."
Melinda focuses primarily on two projects shared between NWCPHP and the School of Nursing: Public Health Activities and Services Tracking (PHAST), and Solutions in Health Analytics for Rural Equity across the Northwest (SHARE-NW). For NWCPHP's pop-up trainings in Idaho and Oregon, she developed worksheets and resources for health departments. She also manages administrative tasks, including communicating with public health departments who want to share data.
Lately, she's been analyzing data for PHAST's Uniform Chart of Accounts project, which helps local health departments (LHDs) standardize, understand, and compare their financial data. She finds the geographic breadth of the project intriguing, as she and the team collect financial data from LHDs all across the country.
Melinda appreciates that her work makes a practical difference. "I was really excited to come to an applied position rather than just be in academia. We work with practice partners who can use the information to actually do things," she said. "If we can make the data easy to look at and understand, people can use it better to inform their decisions or try to persuade other people about the needs in their local health department."
She's also thrilled that her job brought her back to the Pacific Northwest, where she grew up. She loves the proximity to her family, the inclement weather, and the region's balance of urban and rural landscapes. An appreciator of animals, she enjoys learning about the region's wildlife and visiting the zoo.
Melinda doesn't yet know what her future holds, but she has some ideas. Her sociology background with a focus on social inequality, education, and race resonates in her work, which has also sparked newfound interests in rural health and census data. She hopes to pursue a doctorate in sociology, possibly medical sociology, "because it applies to my work here and is a hot, growing area right now," she said. She's fascinated by diseases and loves medical history podcasts.
That interest also brings out her creative side. Her desk showcases a collection of cute, plush toys of microbes—including rabies, MRSA, and a flesh-eating bacterium. And she's clear about one short-term goal: this Halloween, with her boyfriend in costume as a plague doctor, Melinda will dress as the bubonic plague.