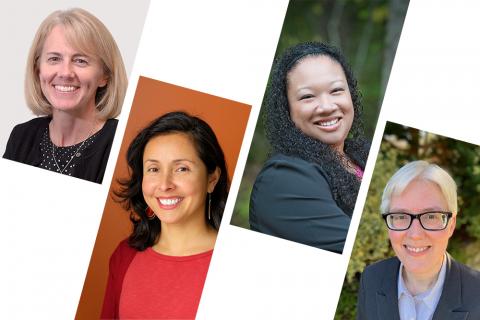 The Northwest Public Health & Primary Care Leadership Institute is excited to welcome four new faculty to the program team. The Leadership Institute is a collaborative offering from the Northwest Center for Public Health Practice and the Northwest Regional Primary Care Association.
Kathy Lofy steps into the program director role, which is an expansion of the previous curriculum lead position. Antoinette Angulo, Yolanda Fong, and Jennifer Jones-Vanderleest are the program's new faculty facilitators. Together, they will support public health and primary care professionals in strengthening their collaborative efforts to support community health. The Leadership Institute is for emerging leaders working in health departments, community health centers, community-based organizations, and community clinics.
The 9-month program focuses on the intersections of public health and primary care work with a health equity focus to frame leadership development. The Leadership Institute uses problem-based learning to help scholars tackle real-world problems in their fields.
The new faculty share more about how their unique perspectives and experience can support scholars in the Leadership Institute.
As the former State Health Officer and Chief Science Officer for the Washington State Department of Health during COVID-19, what leadership skills do you see as key for tomorrow's leaders in public health and primary care?
Kathy Lofy (she/her): The COVID-19 pandemic highlighted long standing health inequities in our communities. To successfully address these health inequities, our next generation of leaders in public health and primary care need to know how to engage and empower communities experiencing disparate health outcomes and form multi-sector partnerships to address the conditions in which a person is born, lives, learns, works, and plays. The Leadership Institute teaches scholars how to partner with communities and form multi-sector partnerships, and allows them to exercise these skills through problem-based learning exercises.
Based on your experience in clinical, public health research, and community health settings with U.S. and Latin American immigrants, how can the Leadership Institute prepare scholars to work across fields to support community health?
Antoinette Angulo (she/her/ella): In my experience, this begins with radical humility. Leadership Institute scholars are active members of learning communities made of clinicians, public health practitioners, and researchers representing their fields and their unique positionalities as human beings in this world. The Leadership Institute provides regular opportunities for scholars to embody humility through hands-on, problem-based learning and critical friends group discussions, creating a safe space to approach leadership challenges with curiosity and deep listening. Because of these practices, scholars are better prepared to appreciate each potential partner's unique positionality, wisdom, and the resources and strengths they each bring to bear toward a common goal.
What real-world problems can scholars expect to tackle in the Leadership Institute based on your experience as the Community Health Director at Kitsap Public Health District in Bremerton, Washington?
Yolanda Fong (she/her): So much of what we do at the local public health level hinges on the partnerships and relationships that are established in communities. Even with mission aligned agencies and individuals, there is a tremendous amount of complexity (organizational structures, funding, perspectives, etc.) that needs to be considered for a project to be successful for all parties involved. During the Leadership Institute, scholars take current and relevant topic areas — such as the COVID-19 response — to work through the nuances needed to navigate community level issues. While we are too often in response mode, the learning environment of the Leadership Institute gives scholars time to reflect and develop needed skills that are important for building relationships with trusted colleagues across the region.
How can problem-based learning help scholars put the principles of health equity into practice in their organization based on your experience as a physician?
Jennifer Jones-Vanderleest (she/her): As a family physician working with people who are incarcerated, I see tremendous opportunities for primary care and public health providers to work together to address health inequities. Problem based learning promotes scholar centered exploration of approaches to real-world, complex health care challenges. Scholars are encouraged to draw from their personal experiences working in public health and primary care using a collaborative, informed humility lens. With problem-based learning, scholars are not focused on solving for a single, definite solution, but rather on expanding their knowledge while practicing cross-sector communication and authentic partnership building skills.
The 2022 Leadership Institute launched in early March with a three-day in-person session.