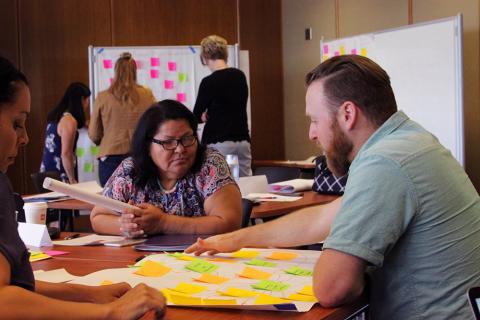 Originally posted February 25, 2020
To meet the needs of our public health practice partners during this demanding time, the 2020–21 Public Health Management Certificate applications are now being accepted through July 24, 2020 and the program will begin in September 2020.
As the challenge to deliver efficient public health services becomes more pronounced and practitioners seek to meet the needs of the diverse communities they serve, it's important for managers to possess core skills in critical areas, such as budgeting, planning, evaluation, and personnel management.
NWCPHP is now accepting applications for the 2020 Public Health Management Certificate—a program designed to help public health professionals build these core skills and become successful managers in their workplace.
Applications will be accepted through July 24, 2020, with early-bird rates available to those who apply by June 15.
During the yearlong distance-based program, which includes one Seattle on-site or week-long virutal intesive session, scholars will take courses to deepen their knowledge on managing people, money, and information. They will have the unique opportunity to work with seasoned coaches and a small peer learning group who they meet with to share perspectives on the material and ground the courses in their real-world experiences. Scholars will also take part in an integrated project that incorporates what they learn into situations relevant to their own workplace. Past scholar projects have included developing quality improvement plans, evaluations, and business plans for their organization.
The Public Health Management Certificate's learning goals encompass management competencies developed by the Council on Linkages Between Academia and Public Health Practice. These competencies include program evaluation, policy development and program planning, communications, cultural competency, financial planning, and leadership and systems thinking skills.
Program staff and faculty are also continually seeking to better incorporate equity, diversity, and inclusion as integral parts of the program's operations, curriculum, and classroom environment. This year, to align the program with the University of Washington School of Public Health's Equity, Diversity, and Inclusion Roadmap, program staff and faculty are re-evaluating marketing and outreach strategies, updating the program evaluation material to explicitly address classroom environment, and officially adopting the School's Commitment to Diversity.
"Throughout the program, faculty and coaches invite students to contemplate their own efficacy and power in making structural changes within their organization," said Tom Eversole, Management Certificate coach. "We want to teach people how to transpose these management skills into practice and encourage them to think critically about how to best serve their communities and lead their staff."
For more information about the Public Health Management Certificate, contact Ashley Bullock, Program Manager.