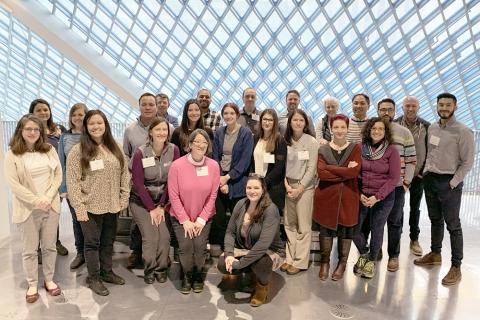 Scholars in the Northwest Public Health & Primary Care Leadership Institute.
The application period for the 2021 Northwest Public Health & Primary Care Leadership Institute, a recently-developed offering from the Northwest Center for Public Health Practice and the Northwest Regional Primary Care Association, is now open.
This program builds on the long-standing training programs of these collaborating organizations and is designed to help mid-career public health and primary care professionals become the next generation of leaders in their fields.
The 9-month program runs from March–October, 2021, and focuses on the intersections of public health and primary care work, using a health equity focus to frame leadership development. Scholars who participate in this learning community will gain a greater understanding of how to do this through a variety of learning formats.
Here is what a current participant said about the program. "I cannot recall the last time I was this engaged and excited in a training. I didn't fully understand what I was signing up for, but I am 100% delighted with my choice. This will forever change the course of my career," said a 2020 Leadership Institute scholar.
The program begins with two virtual sessions in March and June, with a planned in-person session in Seattle in October. Distance-based learning and coaching activities take place between the group sessions, including assignments, panels, lectures, discussions, and work on real-world case studies. The group sessions take place on March 10–12, June 23–25, and October 21–23, 2021. We are monitoring the COVID-19 reopening and may modify the live group sessions to align with travel and other guidelines.
The program welcomes emerging leaders from health departments, community health centers, community-based organizations, and community clinics. People of color and other underrepresented groups and professionals working in rural areas or with medically underserved populations are strongly encouraged to apply.
Applications accepted through December 1, 2020, with early-bird discounts offered to those who apply by October 30. The cost is $3,000 ($2,700 by the early-bird deadline). Limited scholarship funds are available, see the application materials for more information.
These rapidly changing times make collaboration between public health and primary care more crucial—and useful—than ever before. With the growth of state-level accountable care entities, a shift to value-based payments, and our shared origins in equity and justice movements, primary care, public health, and communities can strengthen population health together better than they can apart.
Join the Northwest Public Health & Primary Care Leadership Institute and learn how.
For questions about the program or application process, contact Nikki Dettmar. Apply through the Northwest Regional Primary Care Association.